Presentation of the H.M.A.S. Maryborough Marching Banner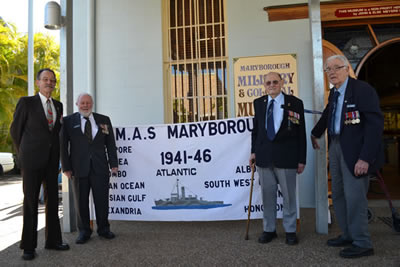 After 66 years, the H.M.A.S. Maryborough Association, disbanded due to the age of original crew members, presented their marching banner to the museum.
Members, including 3 original crew, came from all over Australia to Maryborough in July, 2011 for their final reunion and dinner.
This banner is very significant because it would have been paraded at different Anzac Day and other Association functions for the past 60+ years.
Pictured above are the Museum's Director, John Meyers, and former crew members Alistair Cole, Bill Dobie and Brian Bleechmore.
H.M.A.S. Maryborough Display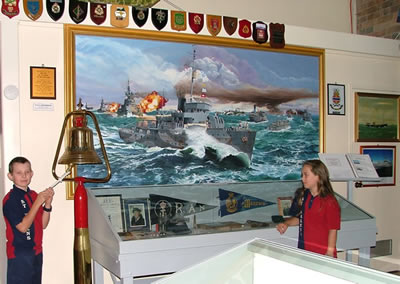 The H.M.A.S. Maryborough display at the museum featuring a painting of the H.M.A.S. Maryborough (depicted at the WW2 battle of Sicily in the Mediterranean) by the late Brisbane based artist Allan Hewson.