About the Museum and its Volunteers
Structure
The Maryborough Military & Colonial Museum is a non-profit heritage endowment created and sustained by the late John Wallace Meyers, and his wife Else, for the benefit of the Fraser Coast community. John had been a successful businessman, as a partner in Dale and Meyers, which started in timber milling and later diversified into hardware retailing and truss and wall frame manufacturing. He sadly passed away on 2nd September 2022, aged 80.
In 2004 the couple bought the J. E. Brown building in Wharf Street to fulfil their dream of a memorial to their children, Karen Janine and Geoffrey John, who were killed in a motor vehicle accident at Gympie on 29th November 1982. Collecting and selling military memorabilia had also been a business for John and Else since John's Army Reserve days, and so the couple used their private collection as the basis for the Museum.
Volunteers perform all roles, as there are no employees. Presently 100 volunteers share their time, skills and energy to assist in the day to day running of the Museum. All of the volunteers have one thing in common - a commitment and desire to be involved in the preservation and display of our military and colonial heritage.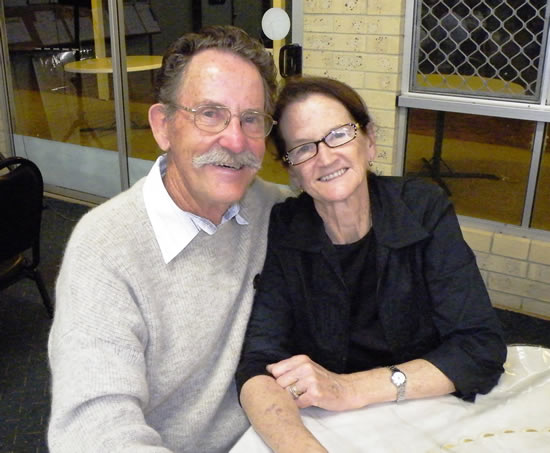 John and Else Meyers pictured in 2012.
The museum displays military memorabilia from all theatres of war and service people, but with a special emphasis on Queensland and Maryborough. The colonial exhibits come primarily from local family collections, including that of the Warry family.
Administration
Greig Bolderrow (Chairman)
Barry Stanberg (General Manager)
Bill Christiansen, Garry Jamieson, Martin Simons (Directors)
Grant Applications And Awards
Chris Nelson is responsible for submitting applications for funding grants and nominations for awards.
Marketing and Promotion
Attending meetings of service clubs, community organisations and schools to explain the exhibits in the museum and encourage visits is an important promotional tool. We also visit schools to explain the importance of significant events such as ANZAC Day, Remembrance Day and the Battle of Long Tan.
Collections and Research
Library: Our extensive library has been catalogued by volunteers. A computer database of over 3,000 books has been created, as well as a register of the many hundreds of files, photographs, documents and maps. See Library.
A register of 11,000 items in the museum including memorabilia, furniture and artwork was compiled by our late Director, Allan Woodward, and currently kept by Chris Barnett. Every article has a specific item number which never changes and can be found by number, category, ownership, photograph, date acquired or location in the museum.
Recording and cataloguing: all loans and donations of exhibits are recorded, and the donor receives an official receipt stating its item number and whether loaned or donated. The article is then photographed and placed in the storeroom, with its position recorded, until a decision is made as to where it will be displayed. The display case or drawer is then recorded so at all times we are aware of its location.
To create a display, a decision on material to be used is made, there is further research for information to prepare captions before they are printed on cards and labels and later the cabinet or drawer is secured.
Display items are rotated regularly. They range through the full spectrum of our military and colonial roots providing a vibrant and nostalgia laced insight into the joys, tribulations and sadness that confronted our pioneering, patriotic and hard-working forebears.
Maintenance
Repairs and modifications to the building are undertaken by a number of volunteers who have a construction and building background. Display cases are built as well as boxes to display medal groups and for protection of delicate fabrics such as flags.
Activities
Pianists (see pianists page)
Hosts meet and greet visitors to the museum, introduce them to the exhibits, explain displays and collect entrance fees.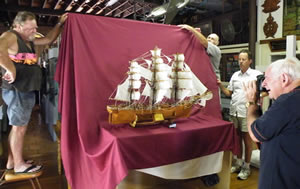 Alan Thurecht and helpers.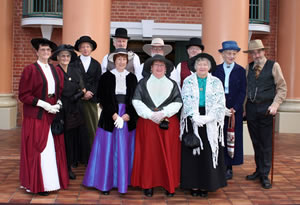 Museum volunteers dressed in colonial costume for the re-enactment of the Maryborough City Hall opening.
Museum characters.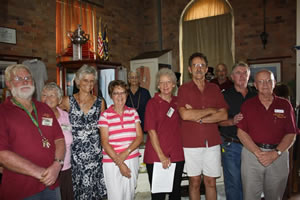 Volunteers gather after a visit by the Riverside Christian College.