At the Maryborough Military & Colonial Museum, expect the unexpected!
The Museum is OPEN - but please be advised we are adhering to STRICT COVID-19 protocols.
Our operating hours are 9:30am to 3:30pm Monday to Friday and 9:30am to 2:00pm Weekends.

Because of Covid 19 Virus considerations, some changes will be necessary.
We will only be using the rear door for entry exit, with sign-age at the side door directing visitors to the rear.

A sign on book will be near the rear door for all visitors to use and put their contact details in.
You must put your contact details, either phone number or address for each person, and the time you enter the museum and depart. This is because of contact tracing rules, and this information is mandatory if you enter the museum.

ALL visitors should be reminded of keeping social distancing rules of being at least 1.5m apart from other persons.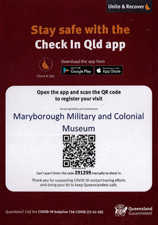 Check in with your Smartphone at the entrance!
OUR HOURS!
The museum is open from:
9.30am to 3.30pm Monday to Friday.
9.30am to 2.00pm Saturday and Sunday.
Closed Christmas Day, Boxing Day and Good Friday.
ENTRY FEES!
Adults – $15.00
Couples – $25.00
Families – $30.00
School Students – POA
Adult Groups – POA
School Age Student Groups – POA
The unusual, the quirky and eclectic are amongst 10,000 items of military and colonial memorabilia, which form displays of exceptional quality at the Maryborough Military & Colonial Museum.
The museum houses a VC awarded to Lieutenant (later Major) Herbert James, 4th Battalion, Worcestershire Regiment for gallantry at Gully Ravine, Cape Helles, Gallipoli on 28th June and 3rd July 1915. It is one of only 39 VC's for the Gallipoli campaign and the only one in Australia outside the Australian War Memorial.
Display items range through the full spectrum of our military and colonial roots.
The museum has two of the most historically significant medal groups to Australian soldiers for the Vietnam War – 1964 to 1973.
The Maryborough Military & Colonial Museum provides a testament to not only those heroes who fought in distant lands to ensure our way of life and prosperity, but also those courageous and determined people who pioneered and progressed the Maryborough area for almost two centuries.
The Museum now has the largest collection of original Boer War medals on display in Australia. Read more about our Boer War display.
Museum Library
Our extensive library houses many forms of written historical data including over 2,000 books, primarily of Australian and New Zealand military history, dating from pre Boer War and pre Federation to the present. Hundreds of files are made up of original military documents, photographs, serviceman's diaries, newspapers, periodicals, maps and correspondence.
Using the detailed computer cataloguing system, any book or file may be found by using author's name, subject, family name or period. More about the library!
The Maryborough Military and Colonial Museum is proud to be included in the Big Bus Tour and Travel Guide as one of the Ten Best Things To Do in Maryborough!
Please view the Museum's feature
here!
(We are Number 4)
NEWS!
10 Week Grade 9 WWI Field Study Program
The Military Museum is proud to be connected to the Grade 9 WWI Field Study Program. Please read the information available for teachers and students for this 10-week program. The materials are free and downloadable by contacting the museum via the number on the
information sheet.
We are catering for School visits - as part of the School Curriculum having Australia's Military involvement in it.
Teachers, ask your Principal and/or your SOSE Manager, and give us a call on (07) 4123 5900 and ask about what we can do for your students, there is more than you could imagine in our Museum.
See Information - School Visits and MMCM School Excursion Planner for more information.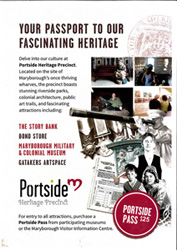 View the Portside Pass brochure here!